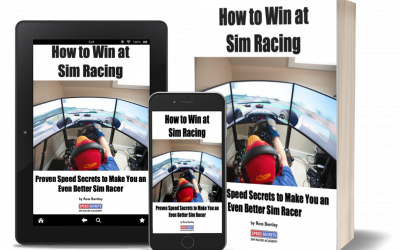 "After over four decades of instructing and coaching real-world drivers, and the past decade of coaching sim racers, I've put together what I believe is the most important foundational information to help sim racers win more often," says Ross Bentley, the author of the Speed Secrets series of books – the most popular race driving books ever. "Of course, 'winning' can mean different things to different racers, from outright victories to simply having more fun. But what practically all sim racers want is to improve – to see progression in their driving performance. That's why I wrote the How to Win at Sim Racing eBook – because I've seen many common factors that are holding sim racers back from being even better."
What Sim Racer Academy members are saying…
"A little something for everyone." How many times have you heard that and wondered, maybe they meant "everyone else"? Sim Racing Academy (SRA) actually has this. In many sim racing subscriptions, you either have a few videos trying to point you to buying time with instructors, or a bunch of videos but if you didn't understand them – too bad.
SRA seems to not only have instructional videos for just about anything you can think of, but also practice drills to break them down and help you make them second nature to your driving. Ross provides personal experiences and insights that go well beyond the basic techniques. You can then test your skills in practice sessions hosted formally by the academy, or informally by members, to run through exercises and discuss the techniques. These are supported by Chalktalks where Ross highlights a particular discipline and encourages you to engage with questions so that the technique can be broken down and explained thoroughly. You are then supported offline through forums and discussion with Ross, SRA staff, and other members on Discord to cover the latest or bring up your own. If there's something you're just not getting, you can arrange time for a one-on-one with SRA staff to sort out the challenge.
Rather than a little, it's quite a LOT of something, and truly for everyone. The material goes well beyond a few videos of hot laps and "git gud" sound bites. It is presented by someone who not only understands racing, but can also explain it to beginners and aliens alike. Join the community, learn the speed secrets.
Having been a motorsports fan for many years, it was only at the start of 2020 that I first took up sim racing. It quickly became apparent that my perceived skill level was a long way off my actual skill level. After months and months of roaming the internet and soaking up all I could find in relation to performance and race driving, my times on the virtual track slowly began to improve. However, this progression quickly plateaued, and I was on the verge of throwing the towel in and conceding that I was much better off sticking to being a spectator.
Then I discovered the Speed Secrets Sim Racer Academy (SRA) from listening to Ross Bentley's Speed Secrets podcast, in which he and his team discussed the launch of the SRA. After looking it over and joining up for a monthly subscription that costs less than that of an iRacing subscription, my sim racing journey took off. I found that all the information on the theory of race driving was presented and explained to make it extremely easy to understand and take in, along with accompanying videos that demonstrate the various techniques and theory clearly and concisely. Not only this, but the access to some of the best coaches around the world, and Ross Bentley, himself is invaluable in terms of learning and understanding.
My times and racecraft really started to accelerate, though, through the weekly training sessions that the SRA team held. In these sessions, I got direct coaching from the SRA team on what I was doing well and, most importantly, the areas I needed to improve on and how to do it. This, coupled with the SRA community also, which has a depth of people ranging from complete novices to some of the best/most experienced sim racers and real-life racers out there, gave me the tools I needed to make real progress. I can safely and honestly say that within the six months I have been an SRA member, my times and racecraft have improved 5x as much as they had done the previous 18 months of trying to figure it out myself. I find that I now have the confidence to enter into leagues and be competitive, whereas before, I was worried about having to move out of the way every five laps due to being blue flagged (lapped).
I honestly have a lot to thank the SRA, its team, and community members for in terms of it really helping me understand and progress forward as a sim racer and giving me the confidence that I can continue to improve and eventually start winning races. What the SRA and its community offer is a one-stop-shop for everything relating to sim racing, whether that be the practice sessions with some of the best coaches around, theory on racing and car dynamics, sim racing kit and equipment knowledge, and the opportunity to speak and make friends with like-minded individuals all over the world. All this for a heck of a lot less than what it costs for a 40-minute private session from many of the other sim coaching platforms out there. I truly do owe the vast majority of my progression to the SRA, and I genuinely look forward to seeing where I will progress within the next six months.