Everybody focuses on the wheel, but I'm here to tell you to start a bit lower. Far and away the most important racing sim purchase that you're going to make will be a simulator pedal set. You want components that replicate the tactile sensations of a sport that's largely based on feel. If you want to practice trail braking and honing a super smooth release you need a realistic pedal set.
Sim racers tend to focus on feedback from the pedal, adjust-ability, resistance, pedal travel, etc. But the main thing, regardless of the individual's aptitude, is that a good pedal set will always make it easier to be fast on a consistent basis. A quality set of pedals will help with your confidence in the brake zones. 

---
Hydraulic Pedals
If you are wanting the ultimate sim racing experience, there is arguably no system that's better at replicating real-world braking forces than a hydraulic system. It is worth mentioning that a high end pedal set will not necessarily make you a faster driver. What it will do is give you a more realistic experience. Some of the premier sim racers in the world actually run with Logitech Driving Force GT pedals. Selecting the right equipment depends on what your goal is.
Ricmotech RealGear GTpro3 Xtreme
Fi-Tech AP Racing CP 5500 Hydraulic Pedal
BJ Simracing Steel GT Hydraulic Pedals
Alkentech Hydraulic Sim Racing Pedals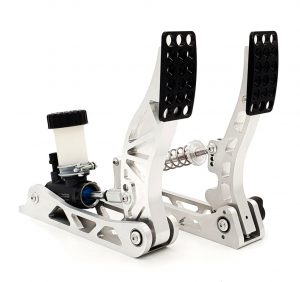 Load Cell Pedals
Load cells have been around for a while, and are commonly regarded as the standard for budget-friendly realism. A load cell based pedal will feature an exponential increase in voltage based on pressure. That means the harder you press on a load cell, the higher the voltage, and higher percentage. The most common example of a load cell application is a bathroom scale: it converts the pressure on the scale into a readout, either in pounds or kilograms.
In sim racing, a load cell pedal works well because it allows for proper pressure-based modulation without modifications. However, where a load cell can struggle is in the displacement department. While you do have the pressure, lower end load cell systems can be very stiff once you hit the cell. Higher end pedals improve on this, but they don't fully simulate the feeling of hydraulic displacement.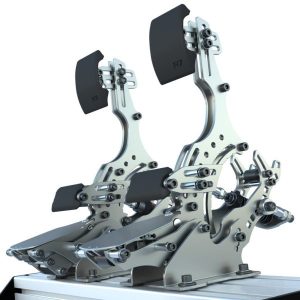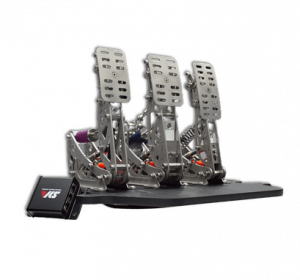 Alien Zadrotti Sim Racing Pro Pedals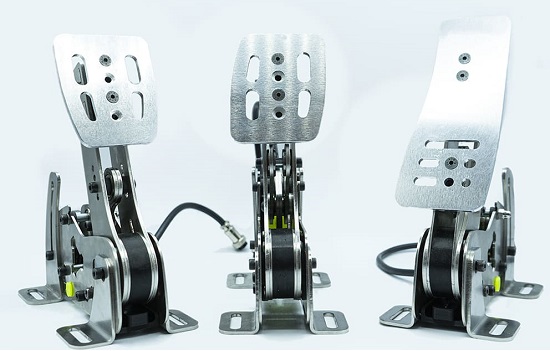 Here's some great insight from hardware creator and engineer Niels Heusinkveld on Load Cell vs Hydraulic Pedals – 
"What all the good manufacturers do now, loadcell and hydraulic, is generate a user configurable feel by using various rubber bushings, springs, washers etc. This gives excellent results for 'feel' while all the time accurately measuring your foot force. You can use a loadcell to measure the force, or hydraulics, both can be extremely good if properly designed. Load cells also don't fail (well not for a loooooooooong time) if used to no more than their rated force. I think the reason many people have broken loadcells on their Fanatec is that its fairly easy to overload the loadcell by pressing firmly. More high end pedals require higher brake pedal forces and are ideally made so that you can't calibrate into overload. So the max calibration is also the maximum allowable loadcell load. This way I had a loadcell last for over 10 years, just as accurate and dependable as on day 1. I'm fairly sure if you use a 1000psi pressure sensor and subject it to 2000psi for too long, it may fail at some point as well. So by the time you get to the better loadcell and hydraulic pedals, the design and specific pedal functionality is more of a decider than the method used to measure your input force. They are both good methods.. The race teams in GP2 and F3 and a few other driver training simulators I work with are also divided, some use hydraulics, some load cell. Its more the execution of the method than the method itself. "
– Conor Murphy, Sim Racer Academy, Product Reviewer